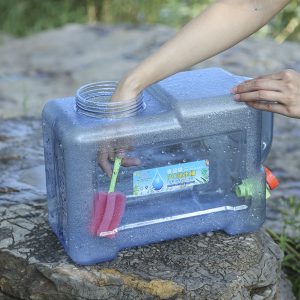 Product Details:
Product Name:
Plastic water storage bucket
Shape:
Square
Material:
Plastic
Color:
Blue transparent
Capacity:
20L
Place of origin:
Ningbo,China
Logo:
Customizable
Feature:
Wide range of uses, durable
Plastic barrels are mostly used for the storage and transportation of various liquids. They have good characteristics for special dangerous goods packaging. They are not brittle, non-rusty, lightweight, etc., and have good oil and strong corrosion resistance. Packing of dangerous goods with thermal insulation, moisture resistance, pressure resistance and corrosion resistance. Plastic barrels are mostly made of polyethylene, polypropylene, polyester and other plastics by blow molding, injection molding, blistering, and rotomolding. They are mostly used to hold liquid and solid items in the chemical, pesticide, pharmaceutical, food, hardware, electronics, and mechanical and electrical industries. . Specifications from 0.25L–220L open and close plastic drums and 1000L container plastic drums. Can be used for items storage or transportation turnover. At present, the maximum capacity of plastic barrels produced by the rotomolding process can reach 50 tons.